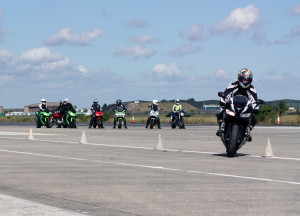 RideSafe Training is the motorcycle training arm of the Alconbury Driving Centre operating from the Enterprise Campus, within the Alconbury Weald development in Cambridgeshire.

Our unique facilities include access to almost 150 hectares of former runways and training amenities, this includes a purpose marked full sized replica MOD 1 test area.

We have a large area dedicated to safe road training with marked Stop junctions, Give way junctions and a roundabout , all with appropriate road signs.

This is a unique benefit to our CBT element C delivery with dealing with road junctions, both major to minor and minor to major in a safe environment in readiness for element D and E, on road training.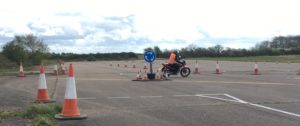 We also have an on-site hill to compliment our training.
It also has a large benefit for our DAS training and again allows safe practice for junction emerging and control on the larger more powerful machines.
For on-road training we are lucky enough to be only minutes from some of the best biking routes in the county.
We have male and female instructors, a range of training bikes for you whether you are tall, or short, scooters, 125cc, 500cc, and 600cc's and access to the only SkidBike training machine in the UK. You can read more about SkidBike on their Facebook page.
SkidBike UK Facebook
We have a course or workshop for every stage of your rider training and if you want a course we don't currently advertise, we are happy to discuss designing one for you! We can cater for individuals, friends, clubs or groups. Our experienced, friendly instructors will work at your pace to help you get the best out of the time you spend with us.
It's important to us that you have fun and enjoy your training. Our aim is to help you become a happy, safe, confident rider.
Why not visit the RideSafe Training Facebook page now and see what courses and special offers we have available?
We look forward to seeing you on one of our courses soon.