Duration: One day              Ratio: 2 to 1 *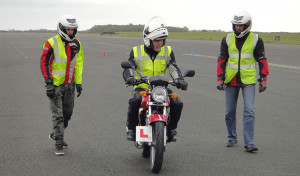 Target: Beginners and re-certification
Certification: Every 2 years
Our unique facilities include a purpose marked, full sized replica MOD 1 training area. *Ratio 2 to 1 applies to the road work section of training.
To train for your CBT, on a 125cc geared motorcycle, you must be 17 years or older on the day of training. You can train on a smaller engine, automatic scooter, when you are 16 years old.
On the day of training you will need to bring:
Your full UK driving licence OR
UK provisional motorcycle licence
Your licence share code
Your packed lunch, (tea and coffee are provided)
Your eyesight will be tested and you must be able to read (with glasses or contact lenses, if necessary) a car number plate, made after 1 September 2001, from 20 metres.
We strongly advise that you read the UK Highway Code, even if you are already a road user. You may not be allowed to begin your training if you do not have at least some knowledge of road signs and road markings.
You can read the Highway Code on the Government website:  The Highway Code
The CBT is usually completed in one day, this includes classroom lessons, training off the road and a supervised road ride, this can be very tiring. So make sure to get a good night's sleep before your training and eat a good breakfast. The cost of a CBT is £135.00. If your instructor does not think you are competent on the road you could be asked to return to complete CBT training.
The CBT certificate is valid for two years, if you do not pass your motorcycle test during this period, you must complete another CBT course. This will enable you to continue riding legally on the road, as a learner.
You can find out full details about a CBT from the Government website:  CBT information