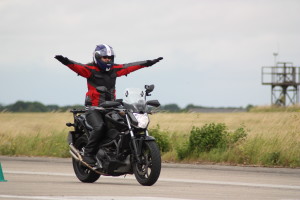 Duration: One Day      Ratio: Group Session  Target: Full Licence  holders looking to improve their skills
In today's age of high-horsepower superbikes, large-displacement cruisers and heavy-weight tourers, your riding skills are more important than ever for safe, fun motorcycling.
Could you do with learning or improving in at least one or perhaps all of the following areas?
Dealing with bends that unexpectedly tighten
Completing low speed turns or U turns, perhaps two up
Avoiding panic braking
Tackle wet or slippery surfaces without a second thought
Stop your bike safely quicker
Ride over gravel, wet grass or very uneven road surfaces confidently
Steering confidence – counter steering and positive steering
Hazard avoidance
Our Skills courses are designed to teach you much of the above and you will also learn how to use your body to increase your bike's stability.
Each of our individual Skills Courses is designed to build on the previous one. Attending all 3 courses will completely transform your confidence and your riding. Our Skills Courses start from only £70 per rider.
We have 3 levels of skills courses. We prefer that you do not book for level 2 unless you have already successfully completed level 1 or we have assessed your riding, the same provision exists as you move into level 3, you must have completed level 2 with us.
These courses will be held on subsequent days in the same week, however you can join just one course. If you book all 3 courses in the same week we will offer you a 10% discount. Please take time to read our full terms and conditions. Our Terms and Conditions