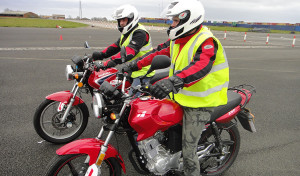 Duration: Variable   Ratio: 2 to 1. Target: Beginner CBT, MOD1, MOD2.
RideSafe Training offers a series of 4 hour training sessions at £160 per session, each one is fluid in its content, depending on your ability and the speed at which you learn. It is our belief that four hour intensive sessions is the safest way to learn and fully evaluate the information given. More sessions can be added if preferred at a reduced cost of £149.
You can come along by appointment, and have a free assessment to give you an indication of training sessions required.  There is a £25 deposit required to book an assessment but we do refund this when you book your complete DAS, A1 or A2 course with us.
Our instructors will assess your riding ability and give you an estimate of how many sessions you would require to enable you to not just pass your DVSA Module 1 and 2 tests but to make you a safe and confident rider.
To give you some idea of typical training times required, from our experience, we would recommend:
Experienced rider 4 sessions
Relative beginner 5 sessions
No previous experience of riding 6 sessions including CBT course and 5 separate Four hour sessions
All of these options include test sessions but not Government test fees.
Pay as you go sessions cost £160 per 4 hour session.
4 – 4 hour sessions cost £596.00 (plus test fees)*
*further sessions are £149.00
The costs for test fees are set by the Government:
£15.00 for Module 1
£75.00 for Module 2
We would add these to your course if we have booked your tests.
DAS sessions start at 8am or 1pm
These are the four steps to achieving your motorcycle licence:
Pass your Motorcycle Theory Test*
Obtain your CBT
Pass DVSA Practical Test – Module 1
Pass DVSA Practical Test – Module 2
*It is possible to take your Theory Test after your CBT training, however, if your CBT is included in the course you have chosen, you must have already passed the Motorcycle Theory Test before you come to train and you must bring the test certificate with you on the first day of your training.
A) Motorcycle Theory Test training
The Motorcycle Theory Test is made up of two parts. A multiple-choice part and a hazard perception part. You need to pass both parts to pass the theory test. The motorcycle multiple-choice part lasts for 57 minutes and the pass mark is 43 out of 50. For the hazard perception part, you will be shown a series of 14 video clips on a computer screen, featuring everyday road scenes that contain at least one 'developing hazard' – but one of the clips will feature 2 'developing hazards' and you need to identify them by clicking a mouse button. The pass mark for is 44 out of 75. You will be given the results of your theory tests at the test centre immediately after taking them.
When you come to train on an A2 or Direct Access Course at RideSafe Training, you must have already passed your Motorcycle Theory Test. You can book your theory test online at a local test centre from this website: Book a motorcycle theory test
You can practise the motorcycle theory test online from this website: Practise the motorcycle theory test
You MUST Remember – A Motorcycle Theory Test is different to a Car Theory Test. Everyone needs to pass the separate Motorcycle Theory Test, before they take their Practical Test.
B) CBT
For beginners our Direct Access Course includes a CBT (if you do not hold one already) or without a CBT (if you already hold a valid CBT certificate).
C) Practical DVSA Module 1 & Module 2 Test
Once you have attended at least one training session your instructor will tell you when you should book your Practical DVSA Mod 1 test and your Mod 2 test.
Watch the Government video of a Mod 1 test: Mod 1 test video
IMPORTANT!
A CBT CERTIFICATE ONLY LASTS FOR TWO YEARS. If your CBT Certificate is older than this, you have to repeat the CBT test.
A MOTORCYCLE THEORY TEST PASS ONLY LASTS FOR TWO YEARS. If your motorcycle theory test is older than 2 years, you have to re-take the test.
A THEORY TEST TAKEN FOR A CAR IS NOT VALID FOR MOTORCYCLE TRAINING. The Motorcycle Theory Test is a completely different test.
You must ensure you have all valid documents before arriving on site for a course or you will not be permitted to train and you will be charged.
All our DAS sessions Include bike hire, fully comprehensive insurance no excess and fuel, rider safety equipment hire, CBT certificate (if applicable). All tuition is a maximum ratio of 2-1.  Free tea and coffee in our training room!